Emollients - Texturizing oleogels
INCI NAME: Hydrogenated Vegetable Oil
Akogel™
Description
This moisturizing vegetable gel is highly oxidative stable. It has similar properties to petrolatum concerning texture and consistency, with the higher polarity offering lower occlusivity and more rapid absorption. It melts rapidly at body temperature, retaining moisturizing benefits.
Fact file
Appearance: Off-white semi-solid paste
Solid fat content at 35°C: 8%
Slip melting point: 39 °C
OSI: 180 hours at 110°C

Recommended applications: all cosmetic applications
Typical use concentrations: 2–5% for skin care, sun care, lip care and color cosmetics.
Recommended partner products: LIPEX® Bassol C™, LIPEX® PreAct™, Akofine R™
Features and benefits
It has a smooth, semi-solid texture at ambient temperature, adding both structure and a luxurious feel to the formulation.


High oxidative stability provides long shelf life without the need for added antioxidants.


The neutral color and odor ensure Akogel does not influence the fragrance or appearance of the final product.
Melting profile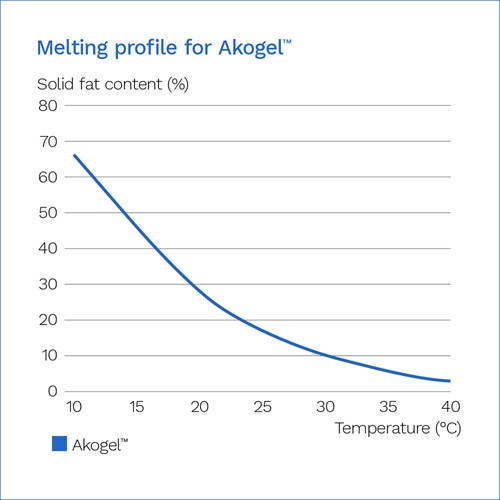 Example formulation
Natural Glow Eco Conscious Face Polish
This multitasking skin cleanser featuring Akogel is a must-have miracle worker.  See more
Regulatory Documents
AAK Allergen Statement
R0002 REACH Statement
R0004 Statement on EU Cosmetic Regulation
R0012 General Statement for AAK Ingredients.
R0014 Turkey-KKDIK and SEA Statement
R0015 AAK PC Products and TGA status
R0016 China NMPA Statement
Statement of Contaminants
T0004-AAK Personal Care Position on Impurities
T0008 General Statement
Product Data Sheet
Akogel™ PDS
Safety Data Sheet
Akogel™ SDS
Statements/Certificates
Akogel™ Natrue
Cosmos Statement
Ecocert Statement
Food Safety Certificate. FSCC 2200
Halal Certificate
ISO 16128 Statement
Kosher Certificate
Quality Certificate. ISO 9001_2015
T0010 Vegan Statement AAK
Other Documents
AAK Statement Non GMO
TSE/BSE statement
Sign in

Apply for an account
Sign in and
unlock
product documents
Existing portal users should sign in with their registered email and password.