Emollients - Texturizing oleogels
INCI NAME: Hydrogenated coco-glycerides
Akosoft 36™
Description
Akosoft 36 is an eco-friendly, oxidative stable moisturizing oleogel that melts rapidly at body temperature to give a soft, luxurious skin feel. It can be used as an alternative to light petrolatum gels and is suitable for fragrance-free formulations.
Fact file
Appearance: off-white, semi-solid gel
Slip melting point: 34°C
Solid fat content at 35°C: 3%
OSI: >100 hrs at 110°C
Recommended applications: all cosmetic applications
Typical use concentrations: 1–20% for skin care, 1–4% for hair care, 1–10% lip care
Recommended partner products: Lipex Bassol C™, Lipex PreAct™, Lipex SheaSolve™, Lipex SheaTris™, Lipex SheaLiquid TR™
Features and benefits
The smooth, semi-solid texture at ambient temperature gives added aesthetics and structure to formulations


The saturated character gives good oxidative stability, providing long shelf-life without the need for added antioxidants.


The neutral color and odor make Akosoft 36 particularly suitable as a base for fragrance-free and colorless formulations.


It melts entirely on the skin, giving a medium-spreading, light, non-oily skin feel.
Melting profile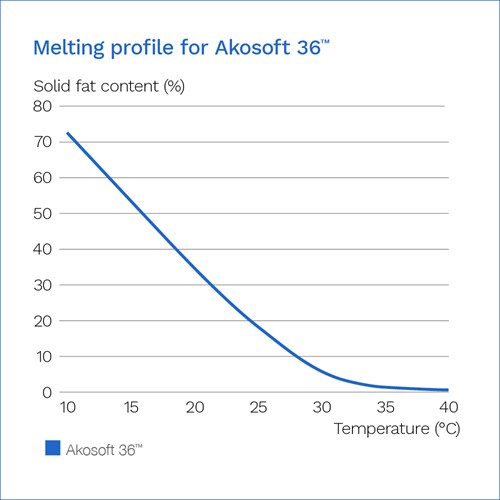 Regulatory Documents
AAK Allergen Statement
R0002 REACH Statement
R0004 Statement on EU Cosmetic Regulation
R0012 General Statement for AAK Ingredients.
R0014 Turkey-KKDIK and SEA Statement
R0015 AAK PC Products and TGA status
R0016 China NMPA Statement
R0017 UK REACH Statements
Statement of Contaminants
T0004-AAK Personal Care Position on Impurities
T0008 General Statement
Product Data Sheet
Akosoft 36™ PDS
Safety Data Sheet
Akosoft 36™ SDS
Statements/Certificates
Cosmos Statement
Ecocert Statement
Food Safety Certificate. FSCC 2200
Halal Certificate
ISO 16128 Statement
Kosher Certificate
Quality Certificate. ISO 9001_2015
T0010 Vegan Statement AAK
Other Documents
AAK Statement Non GMO
TSE/BSE statement
Sign in

Apply for an account
Sign in and
unlock
product documents
Existing portal users should sign in with their registered email and password.