Emollients - Performance oils
INCI NAME: Canola oil (or) Olus oil
LIPEX® Bassol C™
Description
Lipex Bassol C is a superior quality canola-based oil offering high oxidative stability and an odorless, colorless appearance. It eliminates the common challenges experienced when creating formulations with vegetable oils and provides an excellent base for eco-friendly, clean beauty applications. Sourced from renewable, non-GMO Swedish canola crops, it is a sustainable alternative to low-spreading synthetic emollients and is suitable for cold processing.
Fact file
Appearance: Clear, colorless oil
Cloud point: -8°C
OSI: 40h, 110°C
Recommended applications: all cosmetic applications
Typical use concentrations: 1–15% for skin care, 1–4% for hair care, 2–10% for lip care
Recommended partner products: Akogel™, Lipex SheaLiquid TR™, Lipex SheaSolve™, Lipex PreAct™, Lipex Cellect™, Lipex SheaSoft TR™ TR, Lipex SheaTris™
Features and benefits
High oxidative stability provides long shelf life.


Clear and odorless, Lipex Bassol C does not influence the color and fragrance of the final product.


Produced from high-quality canola oil sourced from renewable, non-GMO crops traceable to Swedish farms, Lipex Bassol C offers a sustainable, environmentally friendly alternative to low-spreading synthetic emollients.


Excellent safety profile and high stability make it suitable for use as a base emollient for all skin care formulations, including those targeted at sensitive and delicate skin.
Oxidative stability test
In an OSI test comparing three canola-based oils with different concentrations of polyunsaturated fatty acids (PUFAs), Lipex Bassol C had the highest oxidative stability (OSI) and the longest shelf life.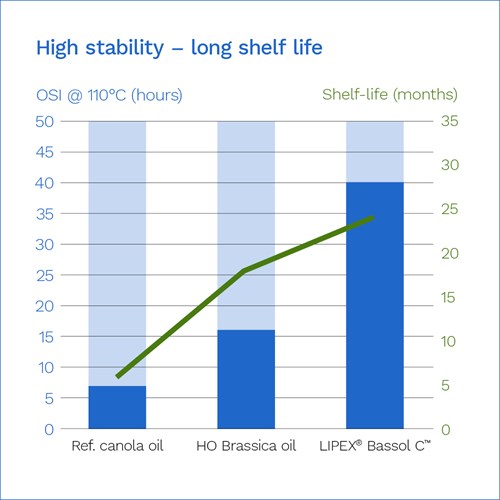 Regulatory Documents
AAK Allergen Statement
R0002 REACH Statement
R0004 Statement on EU Cosmetic Regulation
R0012 General Statement for AAK Ingredients.
R0014 Turkey-KKDIK and SEA Statement
R0015 AAK PC Products and TGA status
R0016 China NMPA Statement
R0017 UK REACH Statements
Statement of Contaminants
T0004-AAK Personal Care Position on Impurities
T0008 General Statement
Product Data Sheet
Lipex Bassol C™ PDS
Safety Data Sheet
Lipex Bassol C™ SDS
Statements/Certificates
Cosmos Statement
Ecocert Statement
Food Safety Certificate. FSCC 2200
Halal Certificate
ISO 16128 Statement
Kosher Certificate
LIPEX®Bassol C™ Natrue
Quality Certificate. ISO 9001_2015
T0010 Vegan Statement AAK
Other Documents
AAK Statement Non GMO
TSE/BSE statement
Sign in

Apply for an account
Sign in and
unlock
product documents
Existing portal users should sign in with their registered email and password.