INCI NAME: Phytosteryl Canola Glycerides
LIPEX® Cellect™
Description
Lipex Cellect is a highly stable concentrate of phytosterol esters (45%) derived from canola oil. In-vitro studies show it has anti-inflammatory and skin-soothing properties, making it particularly suitable for formulations targeted at sensitive and mature skin.
Fact file
Appearance: Solid beige paste
OSI: 80 hours, at 110 °C
Slip melting point: 44°C
Recommended applications: skin care, lip care and color cosmetics
Typical use concentrations: 0.5–2%
Recommended partner products: LIPEX® SheaTris™, LIPEX® PreAct™, LIPEX® Shea, LIPEX® SheaLiquid TR™
Features and benefits
The phytosterol esters in Lipex Cellect work to reduce the release of inflammatory mediators and help soothe and calm irritated skin.
The phytosterols can also help to increase moisturization and barrier properties by physical action.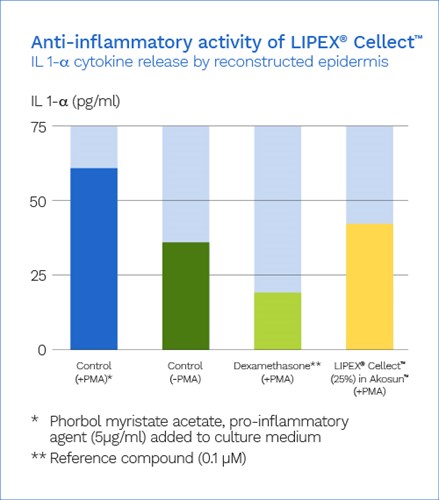 Regulatory Documents
AAK Allergen Statement
AAK China Compliance Statement
R0013 Regulatory Statement for AAK Ingredients.
R0014 Turkey-KKDIK and SEA Statement
R0016 NMPA Statement
REACH Statement
Statement of Contaminants
Statement on EU Cosmetic Regulation
T0004-AAK Personal Care Position on Impurities
T0008 General Statement
Product Data Sheet
Lipex Cellect™ PDS
Safety Data Sheet
Lipex Cellect™ SDS
Statements/Certificates
Food Safety Certificate. FSCC 2200
Halal Certificate
ISO 16128 Statement
Kosher Certificate
Quality Certificate. ISO 9001_2015
T0010 Vegan Statement AAK
Other Documents
AAK Statement Non GMO
TSE/BSE statement
Sign in

Apply for an account
Sign in and
unlock
product documents
Existing portal users should sign in with their registered email and password.