Emollients - Solid and semi-solid butters
INCI NAME: Theobroma Cacao Seed Butter
LIPEX® CocoaSoft RA MB™
Description
Sustainably sourced from Ghana and Ivory Coast, Lipex CocoaSoft RA MB has a flatter melting profile and superior crystallization pattern than standard refined cocoa butter to prevent bloom, protect and repair the lipid barrier, and deliver increased thermal stability to final formulations.
Lipex CocoaSoft RA MB offers cosmetic formulators new opportunities to deliver rich, luxurious, superior emulsions without needing to add texturizing agents and to create innovative anhydrous formulations that remain smooth, firm, and glossy.
Fact file
Appearance: 0ff-white solid butter
OSI: 50 hours at 110°C
Solid fat content at 35 °C: 33%
Slip melting point: 48°C
Recommended applications: skin care, dermo-cosmetics, lip care
Typical use concentrations: 1–5% for lotions and creams, 5–15% for body butters, 2–4% for lip care
Recommended partner products: LIPEX® Shea, LIPEX® SheaLiquid TR™, LIPEX® SheaSoft TR™, Akofine R™
Features and benefits
Lipex CocoaSoft RA MB crystalizes faster to a small, homogenous, stable crystalline network which prevents the formation of bloom and grainy textures without the need for specialized equipment or the addition of texturizing agents.
The more stable crystalline network helps obtain smoother, glossier, less brittle anhydrous formulations.
The flatter melting profile indicates a less temperature-sensitive product and predicts the following behavior:

Less solid fat content at room temperature means that the ingredient is softer and more pliable.
A higher solid fat content at skin temperature results in a longer playtime providing a luxurious skin feel and the ability to protect and repair the lipid barrier.
The higher solid fat content at 40 °C helps stabilize formulations at high temperatures, which results in improved thermal stability and helps avoid temperature-induced phase separation.
Melting Profile Graph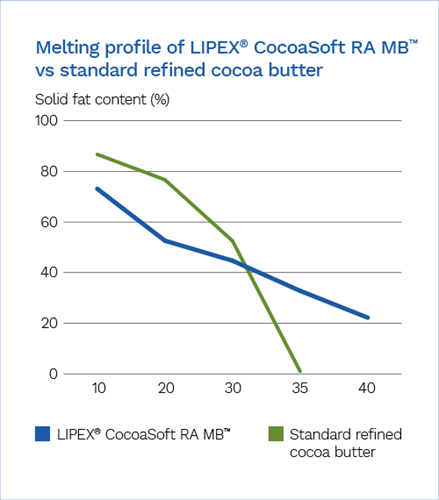 Optimized crystallization video explanation
Watch the video showing the superior crystallization properties of Lipex CocoaSoft RA MB compared to standard refined cocoa butter.
Regulatory Documents
AAK Allergen Statement
R0002 REACH Statement
R0004 Statement on EU Cosmetic Regulation
R0012 General Statement for AAK Ingredients.
R0014 Turkey-KKDIK and SEA Statement
R0015 AAK PC Products and TGA status
R0016 China NMPA Statement
R0017 UK REACH Statements
Statement of Contaminants
T0004-AAK Personal Care Position on Impurities
T0008 General Statement
Product Data Sheet
LIPEX®CocoaSoft RA MB™
Safety Data Sheet
LIPEX®Cocoasoft RA MB™ SDS
Statements/Certificates
Cosmos Statement
Food Safety Certificate. FSCC 2200
Halal Certificate
ISO 16128 Statement
Kosher Certificate
Quality Certificate. ISO 9001_2015
RainForest Alliance Certificate
T0010 Vegan Statement AAK
Other Documents
AAK Statement Non GMO
TSE/BSE statement
Sign in

Apply for an account
Sign in and
unlock
product documents
Existing portal users should sign in with their registered email and password.