Emollients - Texturizing oleogels
INCI NAME: Soybean Glycerides (and) Butyrospermum Parkii Unsaponifiables
LIPEX® L'sens™
Description
Lipex L'sens is a highly polar, semi-solid oleogel derived from a unique combination of soybean glycerides and shea butter unsaponifiables.

It has high substantivity to both hair and skin and is an excellent vegan alternative to lanolin as it shares similar properties regarding touch, structure, gloss, film-forming, and water-absorbing capacities.
Lipex L'sens combines well with other vegetable-based emollients and emulsifiers and most synthetic and mineral oil-based materials used in cosmetics. It also has good compatibility with waxes typically used in lipstick formulations.
Fact file
Appearance: Yellow-colored paste
Solid fat content at 35°C: 1%
Slip melting point: 36°C
Oxidative stability index (110°C): >100 hours
Refractive index (at 60°C): 1.458
Recommended applications: skin care, hair care, lip care and lipsticks
Recommended partner products: LIPEX® SheaSoft TR™, LIPEX® Bassol C™, LIPEX® SheaLiquid TR™, LIPEX® SheaSolve™
Use in skin care applications
Typical use concentrations
1–3% for lotions and creams, 1–6% for body butters.
Features and benefits
Film-forming properties improve moisturization and deliver a silky-soft after-feel to the skin. When used as a component of the emollient phase in body care, an in-vivo study shows Lipex L'sens improves skin barrier properties and significantly reduces trans-epidermal water loss (TEWL).


The high polarity controls texture in emulsion formulations, increasing spreadability and enhancing sensory benefits.


The high polarity also makes Lipex L'sens suitable for use in o/w and w/o formulations when combined with suitable emulsifiers.
In-vivo moisturization study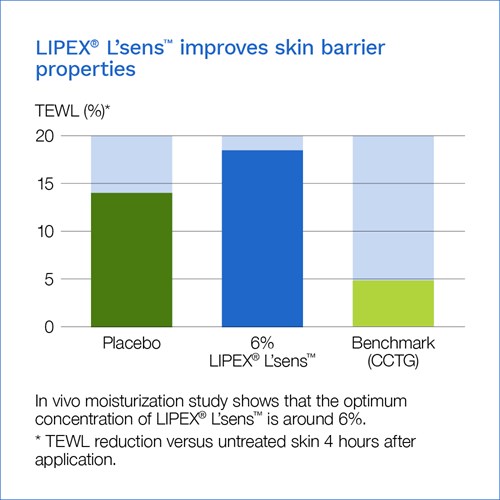 Use in lip care and lipsticks
Typical use concentrations
Typical use concentrations: 1–10% for lip balms, 1–5% for lipsticks.
Features and benefits
Film-forming properties improve softening and moisturizing benefits


The polar character ensures uniform pigment dispersion


A high refractive index contributes to a gloss effect on the lips


High viscosity ensures long-term adhesion of the formulation to the lips
Use in hair care
Typical use concentrations
0.5–1% for rinse-off conditioners, 1–2% for leave-in conditioners, 1–5% for styling products.
Features and benefits
High spreadability combined with good adhesion makes it ideal for hair conditioning treatments. An in-vitro study shows it outperforms placebo and synthetic benchmarks in reducing wet combing force.


High polarity controls texture in emulsion formulations to deliver a rich, creamy appearance and enhanced aesthetics.
Reduction in wet combing force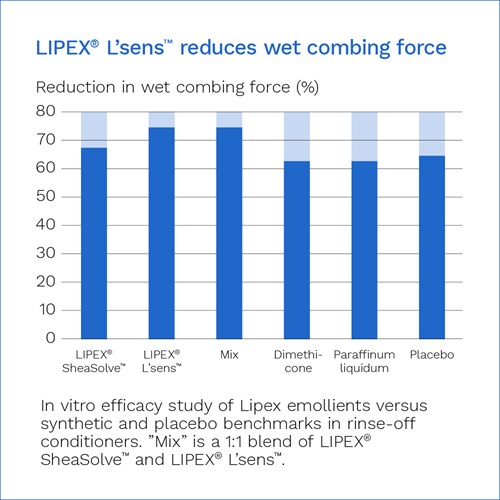 In vitro efficacy study of Lipex emollients versus synthetic and placebo benchmarks in rinse-off conditioners. "Mix" is a 1:1 blend of LIPEX® SheaSolve™ and LIPEX® L'sens™.
Regulatory Documents
AAK Allergen Statement
R0002 REACH Statement
R0004 Statement on EU Cosmetic Regulation
R0012 General Statement for AAK Ingredients.
R0014 Turkey-KKDIK and SEA Statement
R0016 China NMPA Statement
R0017 UK REACH Statements
Statement of Contaminants
T0004-AAK Personal Care Position on Impurities
T0008 General Statement
Product Data Sheet
Lipex L´sens™ PDS
Safety Data Sheet
Lipex L´sens™ SDS
Statements/Certificates
Ecocert Statement
Food Safety Certificate. FSCC 2200
Halal Certificate
ISO 16128 Statement
Kosher Certificate
Quality Certificate. ISO 9001_2015
T0010 Vegan Statement AAK
Other Documents
AAK Statement Non GMO
TSE/BSE statement
Sign in

Apply for an account
Sign in and
unlock
product documents
Existing portal users should sign in with their registered email and password.