Emollients - Solid and semi-solid butters
INCI NAME: Butyrospermum Parkii Butter
LIPEX® Shea
Description
Lipex Shea is a climate-neutral, optimized pure shea butter with a superior crystallization profile and high oxidative stability. It is suitable for use in a wide range of skincare applications.
Fact file
Appearance: off-white solid butter
Unsaponifiables: 7%
Slip melting point: 33°C
Solid fat content at 35°C: 20%
OSI: 45h, 110°C
Recommended applications: skin care, lip care
Typical use concentrations: 1–10% for lotions and creams, 2–4% for lip care
Recommended partner products: LIPEX® PreAct™, LIPEX® Bassol C™, LIPEX® SheaLiquid TR™, LIPEX® SheaSolve™, LIPEX® SheaSoft TR™, LIPEX® L'sens™
Features and benefits
The unique fatty acid composition of Lipex Shea gives high oxidative stability compared with standard refined shea butter.


The stable and rapid crystallization pattern enables almost unlimited levels of use in formulations without the signs of bloom formation typically associated with standard refined shea butter.


Rapid crystallization reduces the possibility of formulation instability and delivers smooth, soft formulation textures across a wide range of skin care applications.


Moisturizing and conditioning properties deliver softening and smoothing benefits to cosmetic formulations.


The high standards governing AAK raw materials guarantee a longer shelf-life than standard refined shea butter.


As a verified climate-neutral product, Lipex Shea can help cosmetic brands achieve their Scope 3 emissions targets and communicate the carbon footprint of consumer products which include this ingredient. 
Graph showing faster transition to stable crystal form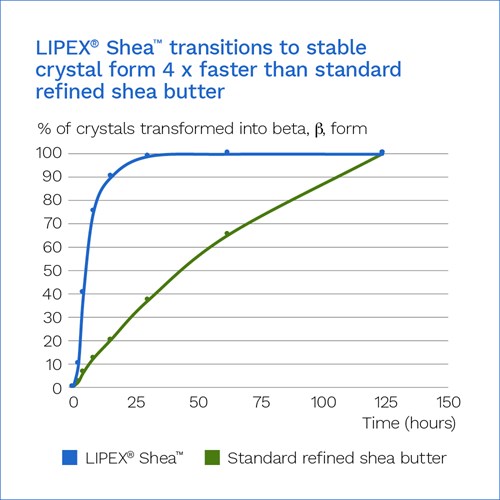 Optimized crystallization video explanation
Regulatory Documents
AAK Allergen Statement
R0002 REACH Statement
R0004 Statement on EU Cosmetic Regulation
R0012 General Statement for AAK Ingredients.
R0014 Turkey-KKDIK and SEA Statement
R0015 AAK PC Products and TGA status
R0016 China NMPA Statement
R0017 UK REACH Statements
Statement of Contaminants
T0004-AAK Personal Care Position on Impurities
T0008 General Statement
Product Data Sheet
Lipex Shea™ PDS
Safety Data Sheet
Lipex Shea™ SDS
Statements/Certificates
Climate-neutral Shea Statement
Cosmos Statement
Ecocert Statement
Food Safety Certificate. FSCC 2200
Halal Certificate
ISO 16128 Statement
Kosher Certificate
LIPEX® Shea Natrue
Quality Certificate. ISO 9001_2015
T0010 Vegan Statement AAK
Other Documents
AAK Statement Non GMO
TSE/BSE statement
Sign in

Apply for an account
Sign in and
unlock
product documents
Existing portal users should sign in with their registered email and password.