Emollients - Liquid butters
INCI NAME: Butyrospermum Parkii Oil
LIPEX® SheaClear™
Description
Lipex SheaClear is a low-spreading oil that offers all the skin-softening and soothing benefits of shea butter in an easy-to-use, clear liquid form. It is suitable for low energy processing and for formulating all types of transparent and translucent cosmetic oil applications.
Fact file
Appearance: slightly yellow liquid, clear at room temperature
Unsaponifiable content: 8%
Cloud point: 18°C
Slip melting point: 12°C
Recommended applications: transparent and translucent cosmetic oil formulations
Typical use concentrations: 2–20% for skin care oils, 1–20% for hair care oils, 1–20% for shower oils
Recommended partner products: LIPEX® SheaTris™, LIPEX® Bassol C™, LIPEX® SheaSolve™
Features and benefits
Clarity at room temperature makes this ideal for skin, hair, and face oils where absolute transparency or low color is desired.
It also makes Lipex SheaClear suitable for cold or low energy processing. However, if stored in cold conditions, heating may be required to remove precipitation.
Time and energy saving benefits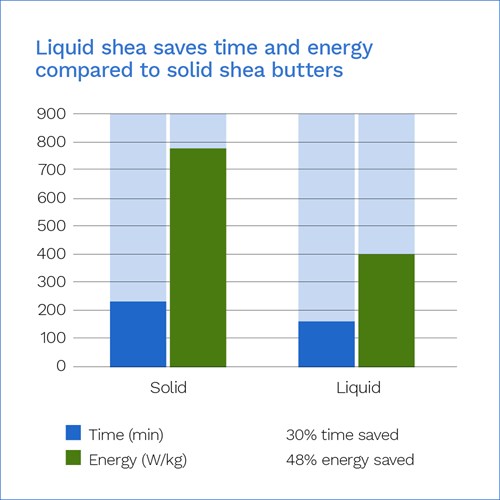 Regulatory Documents
AAK Allergen Statement
R0002 REACH Statement
R0004 Statement on EU Cosmetic Regulation
R0012 General Statement for AAK Ingredients.
R0014 Turkey-KKDIK and SEA Statement
R0015 AAK PC Products and TGA status
R0016 China NMPA Statement
R0017 UK REACH Statements
Statement of Contaminants
T0004-AAK Personal Care Position on Impurities
T0008 General Statement
Product Data Sheet
Lipex SheaClear™ PDS
Safety Data Sheet
Lipex SheaClear™ SDS
Statements/Certificates
Food Safety Certificate. FSCC 2200
Halal Certificate
ISO 16128 Statement
Kosher Certificate
Quality Certificate. ISO 9001_2015
T0010 Vegan Statement AAK
Other Documents
AAK Statement Non GMO
TSE/BSE statement
Sign in

Apply for an account
Sign in and
unlock
product documents
Existing portal users should sign in with their registered email and password.