Emollients - Solid and semi-solid butters
INCI NAME: Hydrogenated vegetable oil
LIPEX® SMP™
Description
Lipex SMP is a highly versatile, oxidative stable solid emollient with a sharp melting profile and excellent crystallinity. It combines a silky-smooth richness with a soft-dry skin feel to offer unique texture transformations in face, hand, and body care formulations. Suitable for both emulsion and anhydrous-based systems, it is an excellent base for creating aerated products and is also an efficient texturizer for cosmetic pencils, sticks, and crayons.
Fact file
Appearance: white, waxy, sharp-melting solid
Slip melting point: 35 °C
Solid fat content at 35 °C: 4%
Oxidative stability index (110 °C): >100 hours
Recommended applications: skin care, make up, cosmetic stick and pencil formulations
Typical use concentrations: 1 – 20% in emulsions and 20 – 30% in pencils
Recommended partner products: LIPEX® Bassol C™, LIPEX® 205, LIPEX® SheaSolve™
Features and benefits
Solid at room temperature, it transforms rapidly to a low viscosity liquid at body temperature with the potential to provide a cooling sensation when melting.


Rapid solidification and excellent crystallinity combined with high oxidative stability ensure the final formulation has a long shelf-life.


Compatible with natural and synthetic waxes, liquid vegetable oils, and esters, as well as pigments and fillers, Lipex SMP is an efficient texturizer for cosmetic pencils, sticks, and crayons. It delivers a smooth, rich pay-off with a dry film on application.NB: Lipex SMP offers limited mixability with tropical butter and long-chain fats.
Sharp melting profile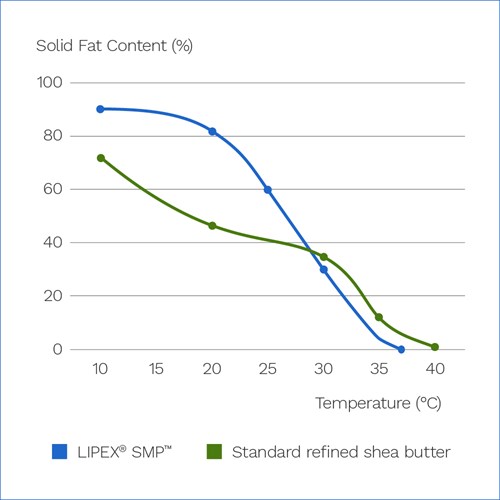 Regulatory Documents
AAK Allergen Statement
AAK China Compliance Statement
R0012 Regulatory Statement for AAK Ingredients.
R0014 Turkey-KKDIK and SEA Statement
R0015 AAK PC Products and TGA status
R0016 NMPA Statement
R0017 UK REACH Statements
REACH Statement
Statement of Contaminants
Statement on EU Cosmetic Regulation
T0004-AAK Personal Care Position on Impurities
T0008 General Statement
Product Data Sheet
Lipex SMP™ PDS
Safety Data Sheet
Lipex SMP™ SDS
Statements/Certificates
Cosmos Statement
Food Safety Certificate. FSCC 2200
Halal Certificate
ISO 16128 Statement
Kosher Certificate
Quality Certificate. ISO 9001_2015
T0010 Vegan Statement AAK
Other Documents
AAK Statement Non GMO
TSE/BSE statement
Sign in

Apply for an account
Sign in and
unlock
product documents
Existing portal users should sign in with their registered email and password.